Ophthalmologist in Culpeper & Fredericksburg, VA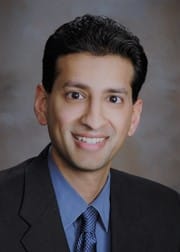 Dr. Jani is one of the best ophthalmologists in Fredericksburg, VA, having provided state-of-the-art surgical and medical eye care in the area since 2001. Dr. Jani's extensive experience and precise surgical care has earned him numerous awards including the Compassionate Doctor Award and the Patients' Choice Award in 2018. Dr. Jani is the areas only fellowship trained laser vision correction (LASIK), specialist and is a leading laser eye surgeon with expertise not only in laser vision correction but also custom cataract surgery, corneal transplantation surgery, glaucoma treatment, eyelid surgery (blepharoplasty), Botox, as well as ophthalmic plastics and diabetic eye care. He has authored several papers, which have been published in the American Journal of Ophthalmology, the Contact Lens Association of Ophthalmologists Journal, Cornea, and Ophthalmology.
Dr. Jani is a Board Certified ophthalmologist and a fellow of the American Academy of Ophthalmology. In addition, Dr. Jani serves as an assistant clinical professor in the Department of Ophthalmology at the University of Virginia. As teaching faculty, his duties include clinical and surgical instruction of resident doctors and medical students in training.
Dr. Jani is a Cornea Specialist, certified on the Intralase Femtosecond Laser and the VISX Star S4 laser for PRK, LASIK, LASEK, All Laser LASIK, and Custom (wave front) LASIK.
He enjoys traveling and spending time with his wife and two children. He also enjoys a variety of sports including, tennis, golf, and swimming.
"I am amazed with how well I can see after my eye surgery. I had no idea the difference that having surgery could have on my ability to distinguish color. Things just appear to be cleaner. Dr. Jani is one amazing doctor! Thank you for giving me my youthful eyes back." – Vitals Patient, August 2018
"I can't thank Dr. Jani, his caring staff, and Surgi-Center enough! My cataract removal of both eyes was a painless experience. I see with such clarity now. My distance vision improved too! So glad I went to Vista Eye Specialists." – Vitals Patient, July 2018
EDUCATION: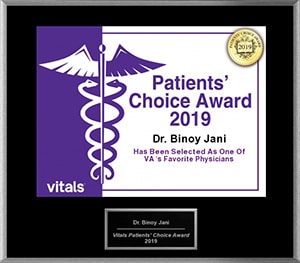 University of Texas, Southwestern Medical Center, Dallas, TX – Fellowship in Refractive Surgery (Laser Vision Correction), Cornea, and External Disease
Case Western Reserve University, Cleveland, OH – Ophthalmology Residency
University of Pennsylvania, Presbyterian Medical Center, Philadelphia, PA – Internal Medicine Internship
Medical College of Pennsylvania / Hahnemann University School of Medicine, Philadelphia, PA – Doctorate in Medicine (MD)
Lehigh University, Bethlehem, PA – Magna Cum Laude, Undergraduate Education
PROFESSIONAL SOCIETIES: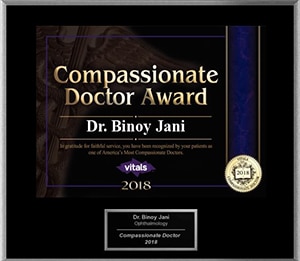 Fellow of the American Academy of Ophthalmology
American Society of Cataract and Refractive Surgery (ASCRS)
International Society of Refractive Surgery
Medical Society of Virginia
Diplomate of the American Board of Ophthalmology
STAFF APPOINTMENTS: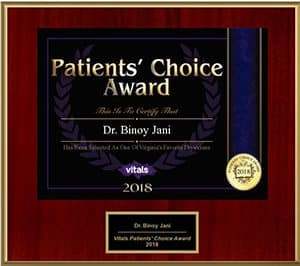 Surgi Center of Central Virginia
Mary Washington Hospital Center
Spotsylvania Regional Medical Center
University of Virginia, Department of Ophthalmology – Assistant Clinical Professor
Culpeper Regional Hospital
Culpeper Ambulatory Surgery Center
If you are a patient of Dr. Binoy R. Jani's and would like to share your opinion, click here.