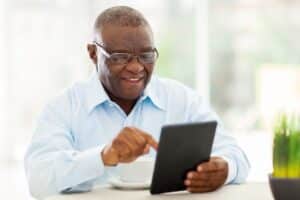 New glasses are an extremely important purchase. The right glasses will fit well, look attractive and help you attain the clear vision you need for everyday life. The wrong glasses may be uncomfortable, cause eyestrain or headaches or lead to buyer's remorse.
You don't have to make this crucial decision alone. Working with a trusted optometrist at Vista Eye Specialists can help ensure you find the glasses prescription that is perfectly tailored to your individual needs.
Eyeglasses Frequently Asked Questions
Why should I go to the eye doctor instead of simply picking out a pair of glasses at the drugstore?
Visiting an eye doctor to determine your prescription ensures your glasses will work well for your unique visual needs. The one-size-fits-all reading glasses that you see at the drugstore are not likely to provide the clear, comfortable vision you want for day-to-day life. We have heard from patients that say that wearing drugstore reading glasses gives them headaches or eye strain.
How do I know if my child needs glasses?
You should have your child evaluated for vision problems if you notice any of the following:
Sitting too close to the television
Holding a book or handheld device close to the eyes when reading
Squinting or tilting the head back regularly
Rubbing the eyes excessively
Complaining regularly of headaches or eye pain
What are my sun protection options if I wear prescription lenses?
You can choose from prescription sunglasses, clip-on or magnetic sunglasses that attach to your regular glasses or photochromic lenses that automatically darken on exposure to ultraviolet light. Try to buy sunglasses that protect you from both UVA and UVB rays if possible.
Who Should Wear Sports or Safety Goggles?
If you or your child play sports like basketball, hockey or baseball, you should protect your eyes with quality sports goggles. Safety goggles are recommended when performing yard work and working on household projects (particularly those with chemicals or projectiles).
You don't have to spend a lot to get a quality pair of sports or safety glasses. The important thing is that you wear them regularly to avoid eye injuries.
Does Vista Eye Specialists Sell Eyeglasses?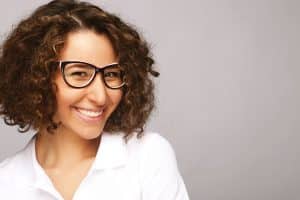 Because our doctors are an ophthalmologist and medical optometrist, our practice's main focus is on treating eye conditions and diseases. We offer comprehensive eye exams that, in addition to looking for disease, can determine your current vision prescription so you know what kind of lenses you need. If you decide to wear contact or scleral lenses instead of glasses, we do offer exams and fittings.
Can I Buy Prescription Glasses With A Prescription From Another Doctor?
Yes, but you will need a written prescription from the prescribing doctor. Taking your script to a practice of your choice to order and purchase your eyeglasses is reasonable. If your prescription is outdated or more than one year old, an optician may require a new eye exam before ordering your eyeglasses. Annual eye exams are recommended to ensure your corrective eyewear provides the clearest vision possible and identify early warning signs of an undiagnosed disease or vision disorders.
What to Expect During an Eye Exam?
Eye exams evaluate your vision and ocular health using a series of tests. Ophthalmologists and optometrists use instruments and tools equipped with bright lights and various lenses to assess your eyesight and look for common refractive errors and signs of eye diseases and conditions. These exams detect vision problems early on when they're easiest to treat. Doctors can also offer eye care tips and recommend how often you should have an eye exam based on your eye health and vision needs.
How Long Does an Eye Exam Take?
A comprehensive eye exam typically takes one to two hours to complete. Some patients may have shorter visits, while others have longer appointments, depending on the eye doctor's findings and other circumstances.
How Much Do Eyeglasses Cost With or Without Insurance?
The cost of prescription eyeglasses is highly variable, depending on the brand of frames you choose and your insurance coverage. An optician can help you find eyeglasses that fit your budget and determine if and how much of the expense is covered by your insurance provider.
How Can I Prepare My Child or Teen For An Eye Exam?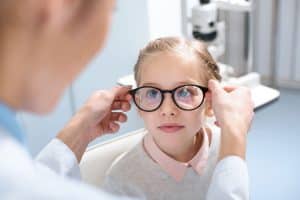 Some children will need an eye exam before others based on their vision and eye problems. Some children may need an eye exam at 6 months old, while other children do not need to see an eye doctor until they're 3 to 5 years old. Children should have their vision checked before starting school, and the frequency of eye exams depends on their vision after that point. If your child is young or apprehensive about their eye exam, you can help them get more comfortable using these tips:
Explain to your child or teenager that the eye doctor will help them and ensure they feel as comfortable as possible during the eye exam. The doctor will ask children who can answer questions about their vision and various other questions to determine if they need prescription eyeglasses or if there is another vision problem involved.
Prepare them for the type of testing required during eye exams. Visual acuity determines how well your child or teenager can see objects far away or close by. A pupil test measures how their eyes respond to bright lights, and another portion tests their eye movement. Tell your child there is nothing to fear and these tests are necessary for their eye health.
Bring their favorite toy or stuffed animal. Young children will be more apprehensive than older teens. Schedule their appointment during a time of day when they are usually in good spirits and not too close to nap time. Their favorite stuffed animal or toy will help them feel more comfortable during the exam.
Contact Us Today
If you would like to know more , please contact the team at Vista Eye Specialists today.