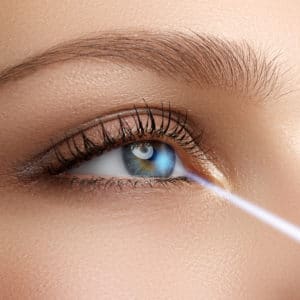 If you are considering LASIK surgery, you likely have many questions regarding the procedure. One of the most common questions the experienced team at Vista Eye Specialists hears from patients is, "Does health insurance cover LASIK?" Here we answer the question in detail and offer information on financing LASIK.
Health Insurance and LASIK Surgery
Most health insurance companies only cover vision and eye procedures and treatments that are deemed medically necessary, such as cataract  surgery.  LASIK (and other refractive procedures like PRK) are considered to be elective since they correct refractive errors that can be treated with prescription glasses and contact lenses. Health insurance policies do vary, however, so it is best to double-check with your provider about the specifics of your coverage plan. Although most insurance providers do not cover the cost of LASIK, Vista Eye Specialists offers financing options to make the procedure possible and affordable to all patients.
Beware of Bargain LAISK
Because LASIK is a highly individualized procedure, there is no clear-cut price estimate for the procedure. However, patients can expect their LASIK procedure to cost anywhere from $1,500 to $4,000 per eye. Because of the large upfront cost, many patients may be tempted to undergo LASIK with a doctor or practice that offers the procedure at a discounted price. But doing so can result in subpar vision results and/or serious complications. LASIK surgery is an investment in your eyesight and wellbeing. For long-lasting and successful results, it is imperative you choose a board certified and fellowship trained LASIK surgeon who is well equipped with the right training, skills and most current equipment to perform your procedure. Doing so drastically increases your chances of successful visual results.
Financing with CareCredit
At Vista Eye Specialists, we recognize the life-changing benefits of LASIK surgery and are committed to making the procedure available to everyone who could benefit from laser vision correction. We are pleased to offer affordable financing with CareCredit, North America's leading patient payment program. CareCredit allows patients to pay for their treatment over time with convenient, low monthly payments that fit their specific budget. To learn more about financing your procedure with CareCredit, please contact our team today.
If you would like to learn more about LASIK or get a price estimate on your procedure, please schedule a FREE one-on-one consultation with Vista Eye Specialists. Call 1-888-EYE-JANI (1-888-393-5264).